While the iPhone market share is growing at a steady state, and the iPad success seems to be already on track, we could question the impact of those new terminals on Adobe Flash. Indeed, the iPhone OS does not support flash (for marketing reasons as well as hardware as it drains a lot of resources), and the growing success of HTML v5.0 is becoming a true alternative to Flash. The management of video tags on webpage is not fully defined in HTML v5, one would need a video player, but integration of QuickTime as a true alternative, and the choice of Apple.
Mac-dedicated websites could not really be Flash-based, especially if we consider that 5% of our readers are using iPhone/iPod touch. If we had to refresh our website today (we are still working on the new one initiated months ago), we could not choose Flash as the basement of it. The situation for major players such as Google/YouTube, Vimeo or Dailymotion is even more obvious, and their current investment to develop Flash-free mobile platform is the true sign of their strategy. On its side, Google is heavily testing HTML v5, and subsequently all references on the web could be impacted and adapted to the new standard. Flash might end back to its original target: authoring tool.
On September, 16 1996, Time Magazine was asking "Whose web will it be ?", commenting on the on-going battle between AOL/Netscape and Microsoft. The past decade has shown that one-day leaders remain fragile, and could be heavily targeted by major players in the field: Microsoft won the battle. Today, the main player, having developed the most innovative and powerful ecosystem involving hardware and services, customers-oriented, is Apple, and the company shares the battle field with Google. With the iPad, Apple again demonstrated that one should adapt technologies to the mass, and not the opposite; this is the only way to get technologies adopted by customers giving them tools to be creative and make use of them.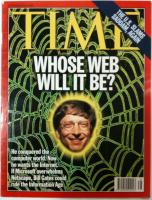 By linathael, original by Ewok