Today, Intel is the only company able to produce chips in large volume with 22 nm engraving process, while its competitors are having hard time to obtain large volume at 28 nm. In addition, Intel is also producing its transistor with a 3D design, a process which will be required for any thinner engraving below 20 nm. 
Of course, Intel is already working on the nest step, 14 nm, and expect to be ready in 2013, as it is already in development. Beyond 2015, Intel is already foreseeing, 10, 7 and even 5 nm engraving: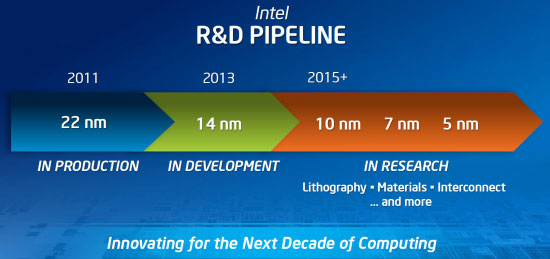 In fact, Intel would initiate works on an engraving process about 10 years before it enters full production mode. With such communication, it becomes more and more obvious that Intel has a huge technology advantage with its competitors, beyond the engraving process itself. In the coming years, if AMD and other founders do not react efficiently, it will become more and more difficult to catch up with Intel... Maybe, it is already too late?
By linathael, original by Lionel